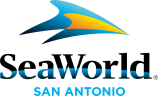 SeaWorld San Antonio
Immerse yourself in the wonders of the sea at SeaWorld® San Antonio. Experience up-close sea life interactions and dive into the world beneath the waves. For totally new experiences beginning this spring, head for SeaWorld's breathtaking coastal-themed bottlenose dolphin habitat, Discovery Point™. View beautiful bottlenose dolphins above the surface or below at the park's new underwater viewing area, or get nose-to-nose swimming with these amazing marine mammals. Don't miss the awe-inspiring educational show, Killer Whales: Up Close, featuring Shamu®, and learn about the majestic animals' adaptations, habitats and behaviors. Round out your aquatic adventure with our one-of-a-kind attractions for all ages like Sesame Street® Bay of Play® and the thrilling Great White® and Steel Eel coasters.
Connect with SeaWorld San Antonio
Redemption Instructions
Log in to view the redemption instructions for this offer.
Participating locations include:
There are no locations for this offer that match your location preferences.